In July 2010 I directed my play, Staying Afloat, developed at Dixon Place and through workshops and residences with New Georges and Voice and Vision, at the Ice Factory Festival at the Ohio Theatre. In Staying Afloat, two women and a polar bear find themselves adrift on a melting ice floe sometime in the near future. They strive to survive and make a community in the face of birth, death, and climate change.
"...there is real wisdom in this play, and immense imagination and stagecraft."
--Martin Denton nyctheatre.com

"Lenora Champagne's Staying Afloat...has the makings of Waiting for Godot-like existential story...the set effectively evokes isolation and longing."
--Chris Kompanek, On the Culture Front, Huffington Post
TRACES/fades, my inter-generational play about Alzheimer's and our national inability to remember history, developed over three years at HERE and 3LD through a HARP residency, was presented by Soho Think Tank at the Ohio Theatre in 2008. TRACES/fades featured visual projections by Shaun Irons and Lauren Petty. During the performance, there are projections of writing that fades, is erased, and reconstituted. The writing is important not for its content, but for its grace, and as a sign of shifts in technology from convent girl cursive to impressions from an old Royal typewriter to contemporary computer fonts. The inscribed traces of writing and print disintegrate and re-form as the main character's mind focuses on powerful memories and images, moments both personal and political, which register and make an impression, then transform and fade.
"Smart, witty, fun...Three generations of women discuss their histories, their problems and desires set against the backdrop of loss and decay....a nursing home...doubles as a surreal memory-cabaret... Images fade in and out of focus...a bodiless hand writes and unwrites names, poetry. Handwriting degenerates and disappears as an outright example of the language that constitutes us...Consciousness disappears; writing (performance?) haunts."
--Obscene Jester

"Most of the story unfolds in the nursing home where Ann now lives; Champagne and her collaborators capture the sad and vaguely surreal ambience of that place with uncanny and affecting fidelity....The production is stunning, and blessed with a wondrous cast."
--Martin Denton, nytheatre.com
TRACES/fades is published in Plays and Playwrights 2009.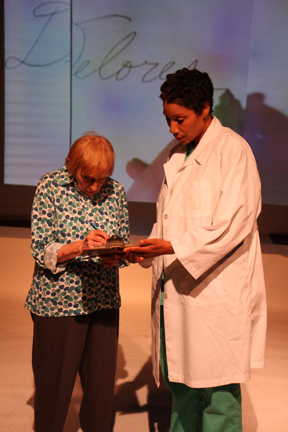 Traces/fades bears some relationship to my previous work, Eye of the Garden, in which the world of adolescent girls within convent walls was explored on a landfill bounded by the Hudson River. Working in collaboration with the performers and with sculptor Claudia Fitch and composer Glen Velez on this commissioned project for Creative Time's final "Art on the Beach" was a rich experience that resonated with spectators, evoking a lost time, queer obsessions, and silent mysteries.
Much of my work retains elements of autobiography, reflecting my belief that the strongest work implicates people (the performer as well as the audience) in addition to moving them intellectually, emotionally, or aesthetically. I ground my work in the personal and particular in order to expansively critique or reflect upon the wider world.
For example, in my recent solo, Mother's Little Helper, I used my mother's fifties-era church-sponsored guide to "the facts of life" to ironically comment on the encroachment of the religious right into contemporary politics and social policy. In a performance punctuated by Cajun stories, young girls' word and clapping games, and sweet potatoes, I explored the scary place girls and women currently find themselves in.
MOTHER'S LITTLE HELPER solo
In the age of Bush, a former Cajun-American Princess draws on her Louisiana roots (and a 1950's guide to the facts of life) to help raise her daughter in a world fraught with post- 9/11, pre-adolescent danger.
"…a lively meditation on motherhood and the state of the world… unfailingly smart and charismatic… persuasive and entertaining… genuinely funny." —Martin Denton nytheatre.com
"treacherously insightful… sardonic and poignant… chilling and sadly ironic… slightly wacky." —AmericanTheatreWeb.com
"achieves wisdom and humor" —Village Voice
The text and introductory remarks of Mother's Little Helper are published in the "Generation" issue of Performance Research.